Dhulaii™ : at your door step
"We are the perfect Valet to keep your car clean"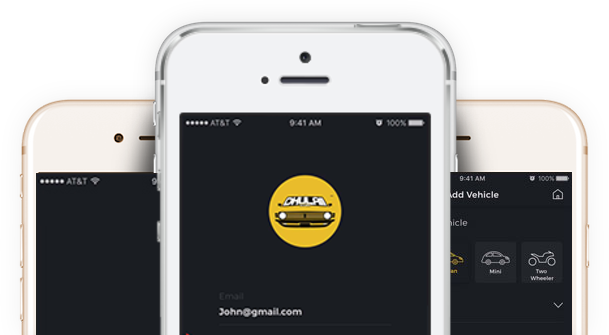 Dhulaii™ Features
---
Easy user Login & Signup
Dhulaii's signup page is simple. In signing up, the platform asks only few details of user, wasting no time.
Select Wash Package
Choose the package that aligns with your car wash needs. All packages can be customized.
Add multiple Cars
Adding multiple cars to the App, no worries its as simple as eating a slice of pizza!
24/7 Service Ready
We have an excellent team of experienced team, happy to help you!
And many more...
The app is easy and simple, soon u'll be in love with it!
Easy Payment Gateway
Making it as easy as possible for your customers to pay for package.
About Us
---
DHULAII™ is a prominent hand car wash company
under the Umbrella of RLV TECH AND SERVICES LLP
What We Do for You?
we wash, and we wash your favourite wheels. Old or new, big, or small our cars are always precious to us. At DHULAII™, we take responsibility to make it shine as new every day. DHULAII™ is a prominent hand car wash service which has commenced its works from DURG, CHHATTISGARH under the umbrella of RLV TECH AND SERVICES LLP and soon to launch its services in the metros.
HOW DO WE DO THAT?
DHULAII™ will provide its customers with the traditional hand car wash service for the exterior of your cars at your doorstep 5-6 times a week depending on customer requirements at a low price. We have categorised the cleaning procedure, timing, and other specifications into different packages to help our clients choose the best valet suitable.
Terms & Conditions
---
Cancellation of Order by User, Cancellation of order is permitted any time before dispatch/subscription. The Customer would however have to bear transportation charges at actuals and also Bank Charges at the rate of 2.5%. The customer agrees not to dispute the decision made by Dhulaii and accept Dhulaii's decision regarding the cancellation. For cancelling your order, you will have to get in touch with our Customer Support Team by sending an email giving your Order/subscription Number. Cancellation of Order by Dhulaii, Dhulaii reserves the right to refuse or cancel any order placed for a product that is listed at an incorrect price or for any other reason. This shall be regardless of whether the order has been confirmed and/or payment been received. If a non-delivery or late delivery occurs due to a mistake by the User (i.e. wrong or incomplete name or address or recipient not available or any other related reason) any extra cost spent by Dhulaii for re-delivery shall be claimed from the User.
Privacy Policy
---
Thank you for using at Dhulaii™.This privacy policy outlines the information we collect about you, how we use the information and the choices you have to review, revise and/or restrict our usage of this information. Dhulaii™ collects customer information for a variety of reasons, including as part of our ongoing efforts to provide superior customer service, improve our customer's experience and to communicate with our customers about our products and promotions, including those that we believe may be of particular interest to you based on information we have collected. We collect personal information such as your name, financial information, telephone number, e-mail and postal address ("Personal Information") that you provide to us when you save your information with us. We use this information to process any transaction, inquiry or promotion that you initiate with us, and provide you with advertising tailored to your interests. In addition, we maintain a record of your product interests, purchases and whatever else might enable us to enhance and personalize your experience on our app and to provide you with offers, promotions or information that we believe may be of interest to you. We also monitor use of the app and traffic patterns to improve the App design and the products and services we offer as well as to determine what offers, promotions or information to send to you. RLV TECH AND SERVICES LLP may disclose specific personal information about you if required by law, governmental request or court order, if based on our good faith belief that it is necessary to conform or comply with such law, request or court.